Across Essex, we have an incredibly diverse cultural landscape of artists, creative practitioners and established/grass roots organisations. Also, creative industries are playing a fundamental role in our economy by employing more than 30, 000 people in over 7, 500 companies.  
Essex County Council's (ECC) Cultural Development team, part of Explore Essex, support the growth and sustainability of our county's arts, culture and heritage sector. This includes launching the Arts and Cultural Fund, helping to bring communities together through art.  
James Ravinet, Cultural Development Officer, explains more about launching the fund and the communities it's supporting. 
What is the Arts and Cultural Fund?
After the pandemic, creative and cultural sectors are at the forefront of economic and social regeneration for Essex. As part of ECC's 'Everyone's Essex' strategy, this fund is aiming to give the sector a boost and help local organisations and artists develop a future for arts and culture.  
During November, we're excited to launch the second round of the Arts and Cultural Fund. This fund is here to help anyone working in the sector, who would like to create a project for Essex residents or bring them on board to work collaboratively. 
The ECC Arts and Cultural Fund offers artists and cultural organisations grants from £2,500 to £30,000, to deliver projects to rejuvenate the Essex arts and culture sector, as well as the county's towns and city high streets. 
What happened in the first round of the Arts and Cultural Fund?
After launching the fund earlier this year and receiving over 200 applications, almost 50 projects were awarded the grant. Then, these shaped a wide-ranging cultural programme, including festivals, exhibitions, workshops and theatre displays.  
These events took place across the whole of Essex, but especially in areas who have low engagement or access to arts and culture events. Over 300, 000 Essex residents had the opportunity to take part in an event or project near them, creating an impact at a local level.  
Residents can find out about events near them though Explore Essex's website, which signposts places to visit and events happening near them. Plus, every quarter, the Explore Essex team compile a new edition of Essex Explorer magazine, putting a spotlight on the plans shaped by the Arts and Cultural fund.  
Projects were led by a mix of established and upcoming organisations and artists, all of them working to position Essex as a desirable place to live, work, visit or play and feeding into Everyone's Essex strategy.
Who did it help – Frinton Summer Theatre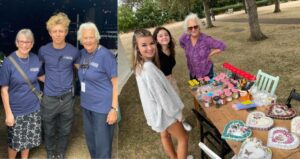 Based in Tendring, Frinton Summer Theatre is renowned for their annual programme of professional theatre performances. The theatre highlighted the economic and accessibility barriers for local young people trying to gain work experience in the sector, without sufficient financial support.  
After successfully applying for the Arts and Cultural Fund, Frinton Summer Theatre was able to provide paid experience to young people, teaching them about all areas of production in a working theatre. Several members of the cohort have gone on to continue their training or find work in the sector. 
Who did it help – Basildon Pride Festival 2022
The fund also helped to support the delivery of the Basildon Pride Festival 2022, which importantly unlocked the financial capacity needed to bring new experiences to the annual festival and parade. This included working with street artists, as well as producing educational and cultural assets that help to tell the story of Pride as a movement and convey LGBTQ+ solidarity. 
Who did it help – Sharon Rawlinson
Similarly, the fund endorsed the work of Essex-based artist Sharon Rawlinson, whose work includes painting, photography and film. Sharon has experience in delivering community art projects, this interest led to the launch of 'The Art Box'.  
'The Art Box' is a travelling art studio, focusing on bringing creative workshop opportunities to children and young people in Jaywick and Clacton. Through the Arts and Cultural Fund, the project has been enabled to deliver workshops at festivals, events, community projects and schools to inspire creativity and wellbeing through access to culture. This is especially important in areas with low arts engagement. 
More about the Arts and Culture Fund 
Artists and cultural organisations can apply for grants from £2, 500 to £30, 000. Applications are open from Tuesday 1 November – Wednesday 30 November. Details are available on Explore Essex's website, to share across your networks.  
Join us for the Virtual Launch
To find out more, sign-up for the virtual launch of the Arts and Cultural Fund on Tuesday 1st November at 4pm, which will include an opportunity to meet the team and ask any questions you may have. Instead, you can contact us at culture@essex.gov.uk