Social media is an invaluable campaign tool, whether you're looking to change behaviour, boost recruitment or increase survey responses. But, without a carefully planned approach, social media can risk reputation and relationships. 
Leah Bond, Social Media Advisor from our Corporate Communications and Marketing (C&M) team has compiled three tips for making your local government social media campaign a success. 
Consider your visual assets
First, think about what visual assets you need for your chosen platforms.  
For example, if your campaign is relying heavily on Instagram, you will need a mix of stories, statics and reel assets. You may also wish to use a combination of people and word-based assets depending on your goals.  
Then, if there's scope, A/B testing is a useful way to figure out which types of posts are most impactful. Testing can also help you choose between design formats and similar assets - for example, whether to use male or female presenting models.  
The Government Communication Service (GCS) has some practical guidelines for testing your campaigns, including how to measure and evaluate. 
Designing your assets
Keeping your campaign visuals consistent and aligned with your organisation's brand is essential,. but it's a fine line to tread. Social media users are looking for distraction and entertainment; they don't want heavily branded or corporate content on their feeds!  
Help is available - from our social media team, our in-house Design Studio plus a range of external agencies. Visit our Comms and Marketing toolkit for a refresher on ECC branding.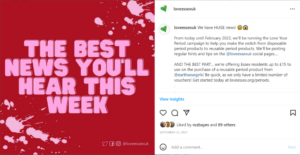 Making social media accessible
As a public organisation, we are responsible for making our content accessible. If your campaign isn't accessible, you're excluding a huge number of people! Research shows 1 in 5 people in the UK have a disability, with many more experiencing short-term impairments.  
Further, the average UK reading age is 9 years old, meaning we need to avoid jargon and complex sentences if we want to engage people. 
You can make your local government social media campaign content accessible by:  
ensuring all images have alt text — you can do this through the platforms themselves or via Hootsuite and other scheduling tools

 

not using link shorteners like bit.ly — these produce a random mix of numbers and letters that don't tell people where they're being taken to

 

using emojis and hashtags carefully and sparingly — never place 2 emojis together or use them as punctuation and remember to use #CamelCase for hashtags

 
Email our Social Media team for a recording of their October 2022 drop-in session. This included lots of tips for creating accessible content. 
Engaging with your audience
Finally, your social media campaign should never just be about broadcasting information. If you're expecting people to engage with your content, prepare to interact too.  
Respond to negative comments
If you receive encouraging comments, make sure to reward these with responses and reactions. Negative reactions may also call for a response, but they are also a sign it may be time to rethink your approach. Consider:  
could your copy and assets adopt a more positive tone? 

 

is there a controversial element you could remove? 

 
could you make the user journey easier - (for example, by signposting to a more useful web page)? 

 
Avoid hiding or deleting comments
Unless comments are offensive, it's not advisable to delete or hide them, as this discourages future engagement. Sometimes, you simply need to allow debate to occur, but you should also step in if there's a way to answer questions, address concerns or supply support.  
Helpful interactions may change attitudes towards your campaign, encourage more positive engagement and protect your organisation's reputation. 
Be proactive and reactive 
Engagement should be proactive as well as reactive, starting before your official campaign launch. Join relevant Facebook groups, comment on local influencers and explore the current landscape. This will gain exposure for your organisation and will also support desk research. 
Collaborate with relevant partners 
Another useful tactic for boosting campaign engagement is tagging partners and relevant organisations. For local government accounts this could include local authorities and NHS organisations. 
This will flag the post to partners who may share your content. As well as your post appearing in people's feeds who regularly engage with your partners' profiles. 
Involve our Social Media Team from the start
If you're thinking of launching a campaign, remember to engage the Social Media Team from the outset. Making the team aware early on will ensure they're able to amplify your messages and explore how your activity fits into the council's social media strategy. Complete the team's contact form to get started posting on social media.