During October 2022, Essex County Council (ECC) was delighted to welcome Gaia to Chelmsford City cathedral. Gaia is a touring artwork by UK artist Luke Jerram, inspired by detailed imagery from NASA, offering a new perspective of Earth. Iulia Apostoiu, Communications Assistant from ECC's Environment and Climate Action team shares how her team supported the three-week event. 
What is Gaia?
After COVID-19, a lot of us had a new respect for the outdoors and our local green spaces. Taking inspiration from this and the fight against climate change, Gaia offers a different view of the world. Measuring a huge 6m in diameter, the floating installation shows Earth from three different perspectives.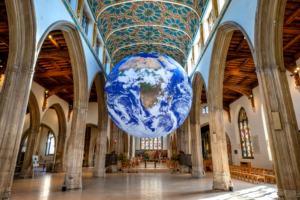 In line with Everyone's Essex commitments to the Environment, the theme for the event was 'Education and Environment.' Different eco-organisations were invited to host interactive displays, prompting discussions around which local issues Essex are facing. 
How did Gaia end up in Essex?
Essex hosted Gaia after the project successfully applied for ECC's Climate Action Challenge Fund. As a touring artwork, Gaia has been installed in grand venues across the world, even the Natural History Museum in London. 
The fund supports groups and schools delivering projects that are fighting against climate change. Almost half the funding is still available, groups can be awarded up to £20, 000. Find out more about the Climate Action Challenge fund, applications are open while funding is left. 
How did the Environment and Climate team deliver?
As a three-week event, the team were kept busy! Of course, we were aiming to teach audiences about the environment, but first, we needed them to book tickets. Then we supported the cathedral's marketing efforts with our marketing approach, covering  a few channels. 
Using social media 
Firstly, we mainly promoted Gaia through a series of social media posts on our Instagram, Facebook and Twitter channels with a wrap-up post after the event ended. Also, we have an events page on our website, where we published an article inviting residents to take part.  
Face to face conversations
Our team members tried their best to be at the stand for at least four days a week. Our time at the cathedral supporting Gaia was hugely beneficial - we were interacting with residents and schools from all over Essex. We mainly advertised our Climate Advice Packs and newsletter. Plus, we noticed an increase in newsletter sign-ups, website visits and social media followers.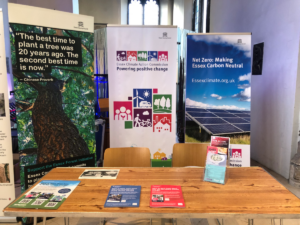 Some of the days we were at the cathedral, the number of visitors could reach a thousand. And considering this was a three-week event which was open to the public every day during the day, and even some evenings, our team had to make sure the stand was always busy, which for us, was the most challenging part in organising the event.  
Saving paper 
Finally, to be more environmentally friendly and not waste paper, for future events we have now put together a few banners with the QR codes for our Climate Advice Packs. We also have a tablet, on which residents can sign up easily to our newsletter.  
Read Essex County Council's first Annual Climate Report
We took part in quite a few events this year and we plan to increase the number of events we're taking part in for 2023. We are also glad to announce that Essex County Council has recently published its first Annual Climate Report, which tracks ongoing progress across the county when it comes to climate action taken in Essex during 2021/2022.  
We work hard to help Essex achieve net zero by 2050 and one of the most important steps in that direction is to make sure residents, businesses and schools understand the role they can play in helping the county.