When writing a new piece of content it can be difficult to know where to start. Mapping your audience's online behaviour is a good way to understand what you need to say and how best to say it.
Insights like this can help you write meaningful content with a purpose:
what does your audience seek from your content?
where do they usually go to find it?
how do they interact with your content?
Easier said than done, right? Well, here are some tips we learnt at a recent content design training.
Three must-have audience insights for content writers:
What is your audience's natural language?
This is the language your target audience is most comfortable with and uses in their daily lives. I do this by carrying out research on social media. Reading authentic conversations gives me keywords to embed within my content. It's also where I learn acronyms and words commonly associated with the topic.
Something I learned when working on climate communications with terms like carbon neutral and net zero - always ask yourself whether your audience will understand the language used. You don't want them confused and having to constantly check certain phrases. Hemingway is a useful app that helps ensure that your text is simple to read.
What are your audiences looking for?
The next step is to use your audience's language to help them find your content. Use Google trends to learn the top search terms related to your topic. Remember, that Google measures search terms and topics differently. A search term is a specific keyword or phrase that users enter into Google search. A topic is a broader category that includes various related search terms.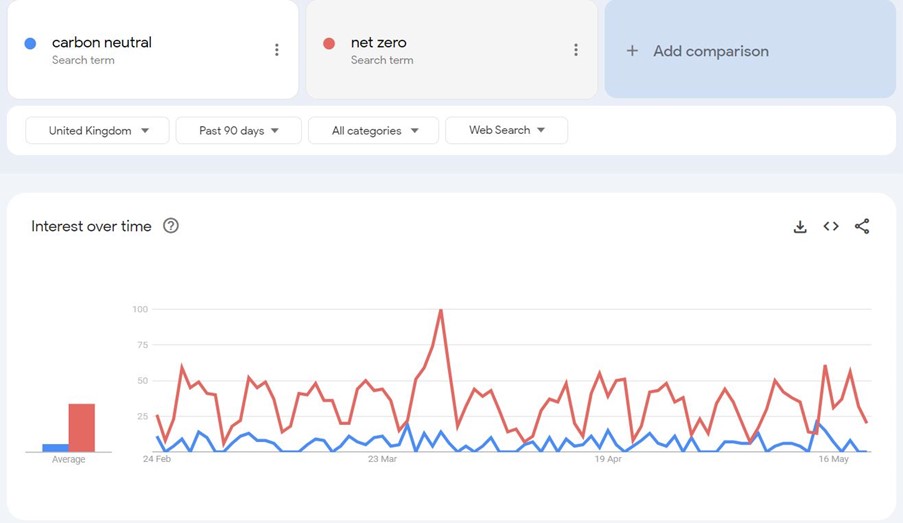 You can also use the specific search term to view audience interest over time. For example, Google Trends lets you compare the search terms 'carbon neutral' and 'net zero.' The graph above shows use of both of those terms over a 90-day period. This then allows you to decide which terms you should be using in your content.
The trends and related queries provide an insight into other ways people are searching around the topic. They could help spot a gap of information in other websites that you can use as an opportunity to shape your content. This also helps Search Engine Optimisation (SEO).
What are you audiences' search habits?
Understanding where your audience look for content is the next step. If you're looking to share something on a blog and your audience spend more time on social media, then it may be worth tailoring the content on these platforms. You can drive traffic from social media to your content or reinvent the content to ensure it gets in front of your audience.
By speaking your audience's language and understanding what they want to know, you can paint a picture of what content and platform will be most effective in reaching your audience. Understanding where your audience looks for content will also enable you to effectively tailor the content to your target audience.
You're now armed with sufficient information to inform your content development. For more tips on content design read our blog post on content design principles to boost SEO.